Best Shower Chairs in UK 2018
Best Shower Chairs in UK 2018
A shower chair is a useful piece of bathroom equipment for households with elderly occupants. They come in a variety of styles depending in the construction of your bathroom and can be found in designs which will suit all needs and physical requirements. Shower chairs for the elderly offer an older person the chance to regain back some of their former independence and dignity. In this regard, they are seen as indispensable items of equipment in many homes across America.
There are a number of different bathroom interior layouts with some having cubicle showers and others having a shower and bathtub combination. Whichever style of bathroom you have, you'll be able to find a shower chair for the elderly which will fit in with the existing arrangement your shower area has. All chairs share one basic feature in common however and that's a sturdy but comfortable seat held up by four strong legs, usually rubber-coated on the bottom for a secure grip.
Shower chairs for the elderly allow the occupant to sit in comfort when taking a shower instead of straining to stand whilst also having to deal with washing the body, opening liquid soap bottles and changing water temperatures. Whilst an elderly person might still need a carer nearby for help when showering, the chair brings about extra comfort and peace of mind where otherwise the process might have instilled fear, tension and exhaustion. The chairs also tremendously reduce the risk of injury from falling.
The material used in the construction of shower chairs also varies but only in slight ways. As one might expect, the chairs need to be waterproof, strong and without sharp edges, thus strengthened plastic is the norm. There are some other more eye-catching options which are basically differences of an aesthetic nature and these include teak wood. All chair legs are metal and as mentioned previously, have rubber feet in the form of suction cups or similar. Most shower chairs also come with handles or bars which allow for extra places to grip with the hands when getting into or out of the shower. The vast majority of seats also have a hole or multiple holes to allow water to drain away and prevent build-up.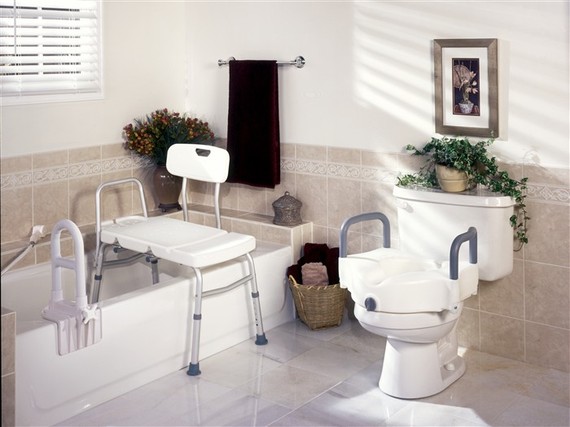 When buying a shower chair for elderly people in UK it's wise to consider all the variables mentioned above and decide upon the best type for your needs. Take measurements of the general bathroom interior as well as the shower area, whether this is a cubicle or a bathtub shower. One has to also take into consideration where the chair will be stored when not in use. Some shower chairs can be folded away and this makes storage much easier. In many cases, the chair will need to be positioned next to the shower permanently and so access space needs to be taken into account.
A good quality shower chair is not that expensive and will last a long time with the right care and maintenance. For older family members who are finding it hard going, then a shower chair will be a welcome addition to the home and make things a lot easier for everyone.
Benefits of Shower Chairs For Elder People
According to the Centers for Disease Control, one in three adults age 65 or older suffers a fall in their lifetime that leads to moderate or severe injuries and sometimes hospitalization. Research also reports that several of these falls occur every year in the bathroom – a place that can be easily safeguarded to reduce accidents and ensure a safe environment.
For those elderly and disabled persons, taking a bath would be a very difficult task to do. But due to the fact that proper hygiene should always be taken into consideration, there are some tools or equipment that can help these kinds of people. One very important thing that they can use is a shower chair. Shower chair is design to assist those elder, disable or injured people that cannot stand without any assistance. Using this shower chair can let them take a shower by themselves with there own privacy. Usually, these shower chairs are made to fit any shower or standard tub. These special chairs have durable body and legs that are made from durable materials such as aluminum. To make it more secure, a rubber is added at the bottom of each legs to prevent it from slipping. The major consideration in choosing shower chair is its size and its maximum weight capacity.
Types of shower chair
There are many types of shower chair and each of them has their distinct characteristics.
Large/Small wheeled shower chair – This type of shower chair has wheels that allows the person to push himself to the bathroom with any assistance from the other person. They are available in large and small wheels. But the problem in a small wheeled shower chair is that it is hard to maneuver especially on floors that have thick carpets. In this situation, an assistant may help bring that person into the bathroom.
Sani-chair – Sani chair is a different type of shower chair. It can also be used in the shower but its main purpose is to be used over a toilet. It is a mobile chair that has a hinged toilet. They are also available in large and small wheels.
Shower trolley – This is a type of shower chair that has larger wheels with a platform allowing the person to be push into the bathroom or shower area while lying down. But due to the fact that it is much longer compared to other chairs, it is seldom used in domestic situation. Most of these chairs would not fit into a standard shower area.
Using these shower chairs would be very helpful for those people who have suffered from injuries or from any physical damage. This can help them take care of their daily hygiene even without the help other people in any given situation.