Best Bath Lifts For Elderly
Best Bath Lifts For Elderly
As you begin to get older, there is a good chance that you're going to experience mobility problems. Many people fit into this category. Unfortunately for many people, this problem isn't going to get any better and it can negatively impact all aspects of your life. Believe it or not, a lot of people with mobility issues give up on bathing, because it is so hard to get in and out of the bathtub. The good news is that there is a solution to this problem. A bath chair lift may be the answer that you've been looking for.
How It Works
First and foremost, you should learn a little more about the basics of bath lifts. How do they work exactly? Well, these products are designed to emerge the user into the water and lift them back up again. There are many different styles and types. Some can be installed on the wall or ceiling, while others are portable and can be used pretty much anywhere. If you're looking for a convenient solution with no installation requirements, you'll definitely want to stick with the portable models.
For those who are in hurry can check out our top bath lifts in UK for 2018 in below comparison chart.

The Different Types
Before trying to choose the right bath lift for your individualistic needs, you need to learn more about the various types. There are battery-powered models, manual models and air inflatable lifts. They'll be explored in greater depth below.
Inflatable
This type of lift uses a cushion, which is inflated by air. In order to use this type of lift, you're going to need an air compressor. When you sit on the chair, you will be able to push a button to descend yourself into the water. Once you've finished cleaning yourself, you can simply push the button again. This will inflate the cushion and lift you out of the water. This type of system can be a little slow. After all, it can sometimes take up to three minutes to inflate completely. Still, this type of bath lift will get you lower into the water.
Battery Powered
There are also battery powered models. Again, this system works very similar to the inflatable models. However, a battery will actually move the chair upward and downward. The battery will usually be rechargeable. Depending on battery life, there is a good chance that you'll get at least 10 or 20 lifts for each full charge. Most of these chairs are designed to suit standard tubs. However, you may be able to find units that are suitable for wider bathtubs. These lifts will not descend as low as inflatable models.
Water Powered
Finally, there are water powered bath lifts. These lifts will operate utilizing the water pressure in your home. They'll need to be attached to a water pipe or something similar. This type of lift is beneficial, since you do not have to purchase anything else and you won't have to worry about batteries. Just remember that they'll depend significantly on your home's water pressure. If it is too weak, there is a good chance that this lift isn't going to cut it.
Best Bath Lift Chairs in UK 2018
Drive DeVilbiss Healthcare Bellavita Lightweight Reclining Bath Lift
Unfortunately, getting and out of the bathtub at an older age can be extremely difficult for some individuals. However, this is where the easy to use and lightweight Bellavita Bath Lift can come in handy. Not only does this device lower from 48 centimeters to 6 centimeters, but it is comes equipped with a power Lithium Ion grade battery.
Includes A Washable Hygienic Cover
While the chair will need cleaned from time to time, the DeVilbiss Company really made the process simple. In fact, the bath lift comes equipped with a removable, washable hygienic cover. The cover is not only constructed with 100% eco-friendly materials, but it can be removed and cleaned for easy maintenance purposes. When you combine all of these features with its easy ability to be dismantled and set up, you are truly looking at one convenient bath lift.
Notable Specifications
Easy to set up and dismantle
Includes a powerful Lithium Ion battery for long operation
Easy to use remote control
Lowers from 48 centimeters to 6 centimeters for easy access
Extremely lightweight design
Overall Assessment
If you are looking for the ultimate bath lift that can easily and quickly get you in and out of the bath tub safely, you need to consider the Bellavita Bath Lift.

BetterLife New Bellavita Lightweight Compact & Portable Bath Lift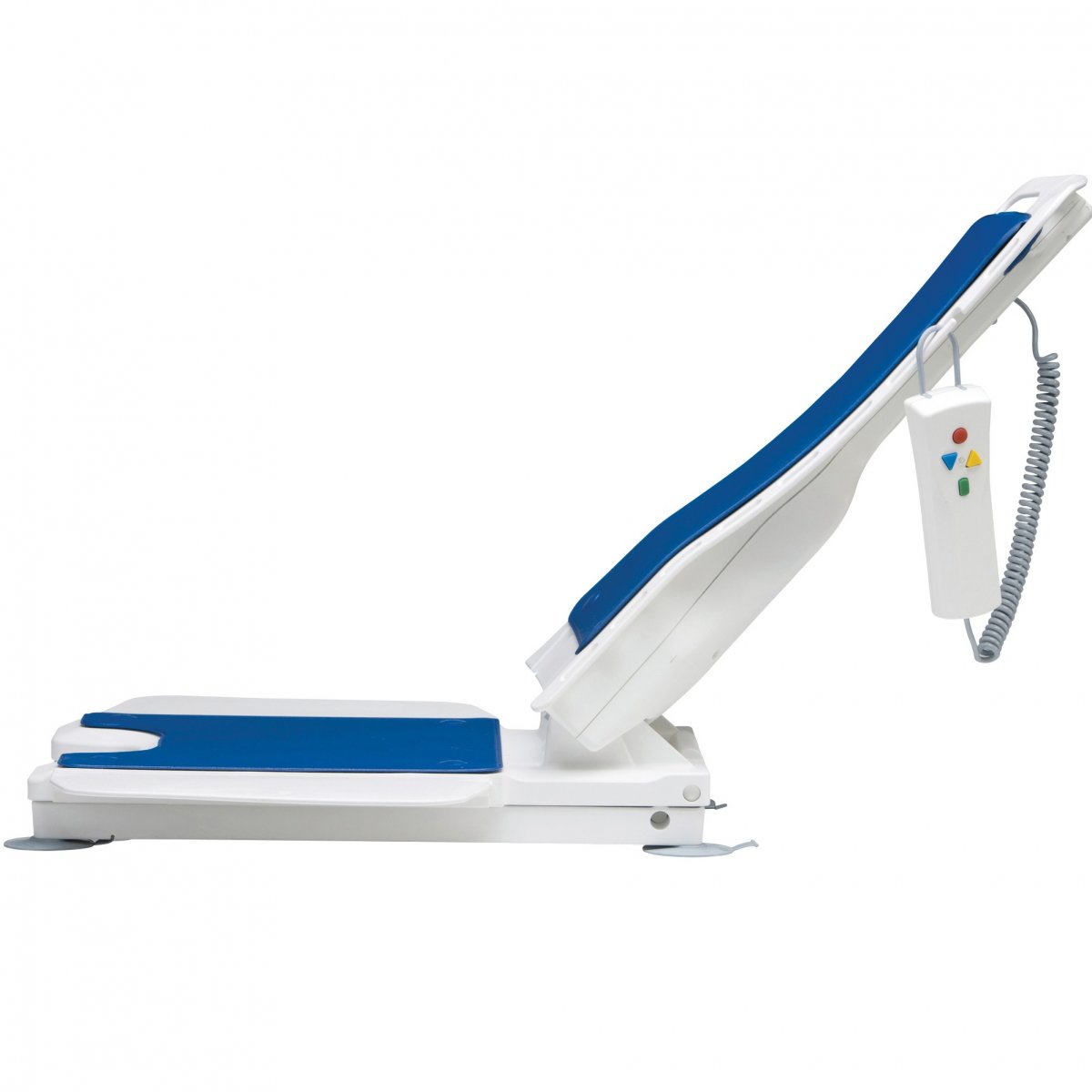 While bath lifts might be necessary for some individuals to get safely in and out of the tub, it doesn't make choosing one any easier. With the wide variety of makes and models available on the market, making a decision can be quite the chore. That was until you came across the BetterLife New Bellavita Bath Lift. This lift not only reclines to a comfortable fifty degrees, but it is easier than ever to install and operate. Never waste your money on a professional installer when you can do it yourself.
Record Seat Height
One of the things that really sets the BetterLife New Bellavita Bath Lift apart from the competition is the seat height capability. The seat is capable of reaching 48 centimeters in height, which makes loading on and off the lift easier than ever. It doesn't matter how tall or small your tub is, this lift will be able to accommodate all your lifting needs. Along with this, the lift is extremely easy to operate and comes with a powerful quick charging lithium battery.
Notable Specifications
Quick charging lithium ion battery
Easy to operate and even easier to install
Record seat height of 48 centimeters
Reclines to a fifty-degree setting
Overall Assessment
If comfort, ease, and dependability are things that you are looking for in a bath lift, you need to consider the BetterLife New Bellavita Bath Lift.

Patterson Medical Bathlift Bathmaster Deltis
Patterson Medical is one of the leading manufacturers of bath lifts. If you want a good one that won't empty your savings, you'll definitely want to check out the Bathmaster Deltis. This unique is capable of supporting the mass majority of people. After all, it can support a maximum of 140 kilograms of weight. This lift will definitely make it much easier for you to get in and out of the tub. It is also designed for easy transportation and the battery life is very impressive.
Long Lasting
This bath lift is designed to withstand the test of time. It features high-quality materials and precision construction to ensure maximum durability and safety. Plus, this lift features the latest battery technology. This feature guarantees a great performance and long-lasting use.
Notable Specifications
Can support 140kg or 22 stones
Easy to put in and take out
Separates into two pieces
Made with high-quality materials
No servicing required
Very easy to clean
Can resist corrosion
Battery is impressive
Includes a remote
Overall Assessment
All in all, the Patterson Medical Bathmaster Deltis is great. It is surprisingly affordable, yet it'll still deliver a great performance. This lift will definitely make bathing much easier than you might imagine.

NRS Healthcare Bellavita Bath Lift M18229
The NRS Healthcare Bath Lift is designed with ergonomics in mind. The company wants to make sure that the user would remain comfortable during their bathing session. On top of that, this chair is very affordable. Even if you're working on a limited budget, there is a good chance that you'll be able to afford it. This chair also features washable, hygienic covers. This guarantees that you won't have to worry about germs. Additional details will be provided below.
Ease Of Installation And Use
There is no doubt that some bath lifts are very difficult to install and even more difficult to operate. This will not be a problem with the NRS Healthcare Bellavita Bath Lift. This lift is actually very easy to install. It comes equipped with a hand control. This guarantees that you'll have no trouble lowering and raising yourself. The remote will always be right there to help you out.
Notable Specifications
Covers are washable
Very easy to install
Operation is simple
Includes a hand control or remote
Very comfortable
Overall Assessment
This is one of the best overall values. The unit works exceptionally well and it won't break the bank. If you're having trouble getting in and out of the tub, you should definitely think about investing in this bath chair lift.

Patterson Medical Homecraft Bathlift Bathing Cushion
Are you looking for a convenient and comfortable bath lift? If so, you'll definitely want to check out this one from Patterson Medical. This unit is a little expensive, but it'll prove to be well worth the cost in the long run. This unit is capable of moving upward and downward with the push of a button. It also very lightweight and compact. This makes it good for those that travel frequently. This also makes is very easy to store the unit away when it is no longer needed.
Suitable For Most
It should be known that this unit is capable of supporting up to 150 kilograms or 23.6 stones in body weight. It is also very easy for the user to transfer themselves from the chair to the ground and vice versa. This combination guarantees that this bath lift will be suitable for almost everyone.
Very Convenient
It is also true that this unit is very convenient. After all, it can be used with the push of a button. It is also lightweight and easily portable. Whether you're going to be traveling or just want to be independent, you'll have little to no problems using this bath lift.
Notable Specifications
Very lightweight
Designed for comfort
Delivers excellent stability
Just requires a push of a button
Great for vacations
Overall Assessment
This bath lift is definitely a little expensive. Nevertheless, it'll prove to be well worth it in the long run. It is easy to use and will keep you stable and comfortable during your bath.